Of Moms and Mitochondria


May 10, 2015
Be sure to thank your Mom today for the one thing your Dad couldn't give you. No, I'm not talking about 9 long months of carrying you during pregnancy; I'm talking about your
mitochondria
.
Mitochondria are the energy producing organelles of the cell, generating the majority of the cell's supply of adenosine triphosphate, or
ATP
. Comprised of an adenine ring, a ribose sugar, and three phosphate groups, ATP molecules are the cell's currency in most energy-requiring processes in the cell. ATP provides the cell with energy through an
exothermic
(energy-releasing) reaction that reverts ATP back into its precursors, adenosine and phosphates. One phosphate is released from the molecule in the process. Thus, adenosine triphosphate becomes adenosine diphosphate.
---
But why thank your Mom for these little energy-producing powerhouses? During sexual reproduction, mitochondria are inherited solely from the mother. It's not that a sperm doesn't have mitochondria, they do, mitochondria are present in the sperm tail and provide the energy to propel the sperm forward. However, a sperm's tail is often lost during the fertilization process and sperm mitochondria are also molecularly tagged for destruction inside the cell [1]
.
This exclusively maternal contribution of mitochondria allows us to trace your maternal lineage through the sequencing of mitochondrial DNA. However, this DNA is not located on your chromosomes. Each mitochondria contains its own DNA that exists in a circular shape, unlike the linear chromosomes of your nuclear DNA.
It is also interesting to note that mitochondrial DNA accumulates very few mutations across generations. Because of this, your mitochondrial DNA is likely identical or near identical to that of your maternal ancestors, even several generations back. The regions of DNA important for tracing your maternal lineage are called the
hypervariable regions
and do not code for proteins. Thus, any mutations that occur confer no selective advantage. These hypervariable regions are free to accumulate mutations without consequence. As mutations are few, any that do occur are easily traceable throughout the generations and across populations. The more differences in mitochondrial DNA, the longer separation between populations or generations. Random mutations are thus used as a clock to follow human evolution.
---
---
Powered by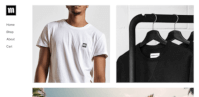 Create your own unique website with customizable templates.